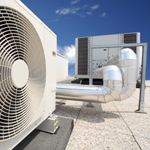 The Commercial Department at Climatech Inc. is here to serve all your needs, from light commercial to industrial HVAC applications. We are a company that is committed to excellence in every aspect, from installation to service to customer care. Give us a call and let us take care of all your commercial needs.
Heating and Cooling
We are experienced in the installation and servicing of all types of commercial HVAC equipment, including:
Split Systems
Boilers
Chillers
VAV Systems
Temp Control Systems
Exhaust and supply fans
Clean Rooms
Call Climatech Inc. and ask us if we can help you with any repairs or replacements. All replacement equipment can be quoted free of charge. We don't require any contracts or maintenance agreements if you wish to call for service and repair only. Let Climatech Inc. be your backup due to short-hand staff or on-call status on weekends or nights.